Karma Cigar Bar LLC Press Release! @Karmacigars
September 8, 2017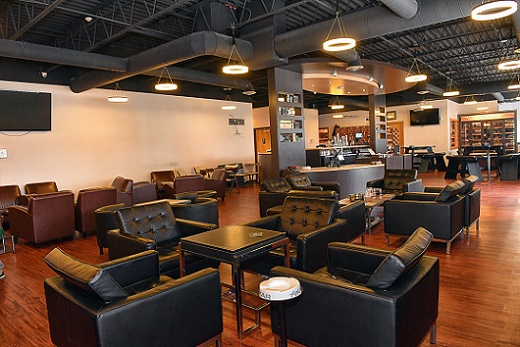 Karma Cigar Bar LLC Press Release
FOR IMMEDIATE RELEASE
Karma Cigar Bar Offering Beer, Wine and Liquor and New Ventilation System
Region's Largest and Most Stylish Cigar Bar Now Offering Beer, Wine and Liquor in a Newly Ventilated Lounge
Merrillville, IN – (8/21/2017) – Karma Cigar Bar is excited to announce that it has obtained a liquor license for its lounge in addition to their beer and wine license. The additional license is an added dimension for Karma who previously offered only beer and wine in the lounge. With addition of the liquor license, Karma Cigar Bar now offers a wide variety of alcoholic drinks including beer, wine, rum, whiskey, scotch, bourbon, vodka, tequila as well as mixed drinks.
Karma Cigar Bar has also updated their current ventilation system by adding a state-of-the art air scrubbing system with ten power vents that allow our guests to smoke cigars while not subjecting them to added odor and haze of smoke from other guests in our lounge. These units allow for air to be refreshed 10 times/hour offering a very pleasant, enjoyable, and relaxing experience for all guests in our lounge.
Dhiren Shah, owner and president of Karma Cigar Bar states, "The additional license and new ventilation system will add a new height of experience for the cigar lover of the region."
###
About Karma
Karma Cigar Bar is the first and only full-service cigar bar in the Chicagoland area working closely with some of the biggest names in the premium cigar industry including Arturo Fuente, Acid, Alec Bradley, Ashton, Asylum, Aurora. Avo, Camacho, CAO, CLE, Cohiba, Davidoff, Delicioso, Diamond Crown, Drew Estate, E.P.C, Gurkha, Herrera Estelí, Hirochi Robaina, Illusion, Joya De Nicaragua, La Aroma De Cuba, La Flor Dominicana, La Palina, Liga Privada, Macanudo, Montecristo My Father Brands, Nestor Miranda, Norteno, Oliva, Opus X by Fuente, Padron, Partagas, Karma Private Blend, Rocky Patel, Roma Craft, Romeo & Julieta, Room 101, San Cristobal, Senorial, Tatuaje, Viaje, Zino, and many more. Karma Cigar Bar also carries a wide range of accessories and supplies including humidors, cigar cutters, lighters, ashtrays, humidipaks, and premium butane. Karma Cigar Bar hosts a variety of corporate, personal, and philanthropic events as well as bringing cigar tobacco cultural seminars to the area, all supported by Karma's well-trained and consumer-friendly event management team.
Contact Information Karma Cigar Bar,
850, West 81st Avenue, Merrillville, IN 46410
events@karmacigar.com karmacigar.com
Contact: Dhiren Shah
Phone: 219.756.0698
Email: events@karmacigar.com