San Lotano Cigars at City Place Cigars
October 23, 2012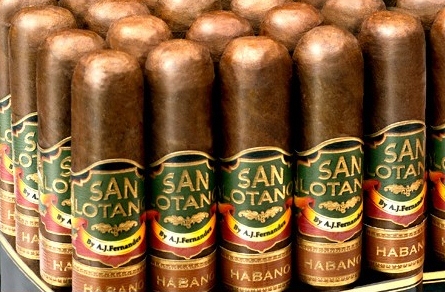 From Our Friends at City Place Cigars:
Friday, November 2 from 2 – 7 pm. Join us for a great cigar tasting with San Lotano Cigars, made by A.J. Fernandez.
Raised in Cuba and steeped in the rich tradition of the Fernandez cigar legacy, AJ Fernandez now produces unparalleled, hand-rolled product in Esteli, Nicaragua. Ensuring superior quality, the day-to-day operations at Tabacalera Fernandez are managed under the watchful eye of AJ himself. Through a fusion of inherited technique and learned patience, Fernandez filler tobaccos are grown from prized seeds which are proprietary only to the Fernandez family. Perhaps the most essential quality of the AJ Fernandez line of cigars is the perspective and motivation of AJ, as well as the history of the Fernandez family. "My Grandfather first started growing tobacco in pre-Castro Cuba in our hometown of San Luis. Mostly, I was taught the importance of patience and time honored methods when working with premium tobacco. I have also been blessed to have been given many of Cuba's most coveted cigar making secrets. The secret to my cigars is an uncompromising commitment to that tradition. My company is dedicated to the memory of my Grandfather, and to my mentor and friend, the late Alejandro Robaina."
The prestigious San Lotano Oval from AJ Fernandez presents in a highly unique oval shape. The key to an enhanced smoking experience: ultra-premium aged tobacco. The Oval features a Habano 2000 wrapper, aged for at least four years, with Nicaraguan binder and Nicaraguan and Honduran filler. The new Oval affords a truly distinguished balance like no other.
The San Lotano Connecticut represents the mild to medium-bodied offering from the AJ Fernandez portfolio. Rolled with a silky, golden Connecticut wrapper grown under the favorable shade of Ecuador's natural cloud cover, the wrapper is rounded out with the finest seco and viso Cuban seed fillers. Smooth and creamy, the flavor of the San Lotano Connecticut is prominent despite the cigar's more gentle strength profile.
The San Lotano Habano by AJ Fernandez is specially blended for the full-bodied cigar fan. By using only premier fillers fermented to perfection, the Habano is strong yet perfectly balanced with a rich and robust flavor leading to a long and memorable finish. Perhaps the most unique aspect of the Habano blend is its rare Cuban seed and ligero wrapper grown only in Brazil by the Fuego family. Containing extremely limited Cuban seed only offered to two factories in Central America, including Tabacalera Fernandez, the Habano is truly an exceptional experience.
AJ Fernandez ensures that the San Lotano Maduro is rolled using only the finest aged Maduro wrappers imported from the famed San Andres Valley. Box pressed and made with our own blend of fillers from Nicaragua and Honduras, the Maduro is medium bodied, emitting a creamy and sweet smoke. The Maduro blend presents all the flavor of a full-bodied cigar within a smooth, medium-bodied format which allows the smoker to taste all the subtle complexities offered by the blend.
Pinolero is AJ's long awaited addition to the San Lotano family of fine cigars. Pinolero — a colloquial term for "local" — features the finest tobaccos from diverse regions of Nicaragua. Filled with rich, luxurious long fillers and wrapped in coveted Fernandez Family leaves, this medium to full bodied smoke not only captures the highly complex flavors of exotic regional Nicaraguan tobacco, but also affords a highly aromatic mellowness which has become the brand standard of AJ's highly coveted products.
" To make the best cigars, you must have the finest raw materials…
nobody has finer materials than we have." – AJ Fernandez
City Place Cigar
434-237-9084
1507 Enterprise Dr.
Lynchburg, VA
434-237-9084

This entry was posted in
Events
and tagged
a.j fernandez
,
cigar
,
cigar event
,
Cigar Events
,
cigar shop
,
cigar tasting
,
cigarevents.com
,
cigars
,
city place cigar
,
city place cigar events
,
san lotano
,
san lotano cigars
,
san lotano cigars event
. Bookmark the
permalink
.