Lehigh Valley Cigar Club Hosts Charity Golf Tournament
August 1, 2012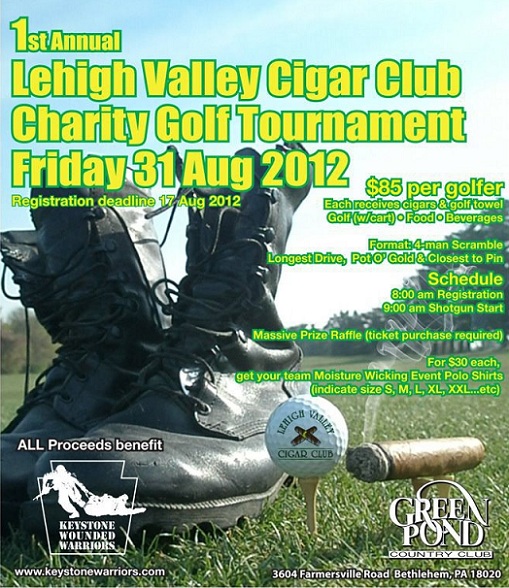 Playing golf is one of everyone's favorite pastimes, but it is even more enjoyable when it is to raise money for a great cause. Lehigh Valley Cigar Club is hosting a Charity Golf Tournament at Green Pond Country Club located at 3604 Farmersville RD in Bethlehem, PA. This golf tournament is a fundraiser for the Wounded Warrior Project…what an amazing cause!!! All proceeds are being donated to the Keystone Wounded Warrior Project out of Lehigh Valley. This fundraiser will take place on Friday, August 31, 2012 with registration starting at 8:00 AM and shotgun start at 9:00 AM. Registration deadline is August 17, 2012 so don't delay and register NOW!!! Please come out for a day of great fun and help the Wounded Warrior Project while doing so. For more information, please call Joey D at (973) 441-5815 God Bless Our Troops!!!

This entry was posted in
Events
and tagged
cigar
,
cigar event
,
Cigar Events
,
cigar shop
,
cigar tasting
,
cigarevents.com
,
cigars
,
event
,
events
,
lehigh valley cigar club
,
review
,
shop
,
the wounded soldier
,
wounded warrior
,
wounded warrior project
,
wounded warrior project of lehigh valley
. Bookmark the
permalink
.