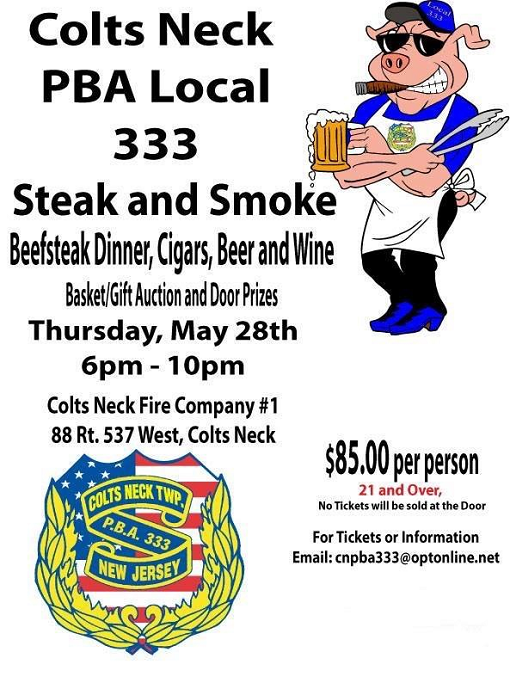 The Colts Neck Township Police Benevolent Association (PBA) Local 333 is
hosting a Steak & Smoke, Beefsteak and Cigar Fundraising Dinner on May 28,
2015 at Colts Neck Fire Company #1 located at 88 County Route 537 West in
Colts Neck. The event is scheduled to begin at 6pm and end at 10pm.
The event is a ticketed event for those 21 and over. The event is being
held to raise funds for the various charities and scholarships that are
supported by the PBA throughout the year.
Those attending the event will enjoy a beefsteak dinner, drinks, hand rolled
cigars and numerous items up for grabs in the gift raffle.
Tickets for the event are $85.00 and must be purchased/reserved in advance.
Ticket information is available via email at
cnpba333@optonline.net
Additional information can be found at their PBA website at coltsneckpba.org
or at the Colts Neck PBA Facebook.com page.
————————————-
June 1, 2015
Brothers of the Leaf New Jersey Chapter
Presents
Smoke on the Terrace
The Terrace
293 Paramus Road
Paramus New Jersey
Don't miss this amazing event!
For more information and tickets contact Info@botlnjchapter.com
June 5, 2015
12PM-4PM
XIKAR Accessory Showcase
JR Cigars
Paramus, NJ
June 18, 2015
4PM-9PM
XIKAR Accessory Showcase
Joe's Cigars & Social Club
Spring Lake Heights NJ
June 19, 2015
12PM-4PM
XIKAR Accessory Showcase
JR Cigars
Whippany, N