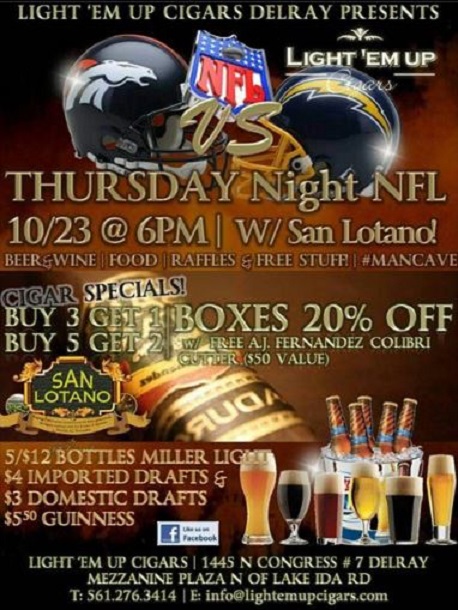 October 23, 2014
6pm-9pm
Rocky Patel Cigars Event
The Cigar Room
6341 Stirling Rd.
Davie, FL 33314
(954) 870-6460
October 23, 2014
6pm-9pm
Rocky Patel Cigars Event
Macabi Cigar Bar
801 S. University Dr. #C-138
Plantation, FL 33324
(954) 625-7441
October 24, 2014
Meet Rocky Patel
Come party with Rocky
Tampa Humidor
1418 East Busch Blvd, Suite 105
Tampa, FL33612
(813) 990-8535
Great deals on your fav RP's. Flat screen give away!
October 24, 2014
6pm-9pm
Rocky Patel Cigars Event
Key West Cigar Club
335 Duval St. #F
Key West, FL 33040
(305) 296-3777
October 24, 2014
at 7:00 PM
Cuenca's Birthday Party!
Cuenca Cigars of Hollywood
1928 Harrison St,
Hollywood, Florida 33020
Let's have a party to celebrate Cuenca Cigars birthday party. This will be the event of the year you don't want to miss out and will take place this coming October 24, 2014 at Cuenca Cigars of Hollywood. Be here at 7 and see it for yourself.
Everybody knows that fun at Cuenca Cigars is redefined every year with a little touch of style, fun and love. This year is been particularly special with all the remodeling and upgrades going at our store: the new shelves with LED lights sponsored by Altadis USA that opened up at least 300 more cigar faces, new outside chairs that just arrived last week and most important: the new filtration system installed at the Montecristo Lounge. We work hard to get where we are and to make our store the most fun ever. And we want to share it with you.
Event will start at 7:00 pm sharp and there will be a lot of surprises! We will be updating you with the details but SAVE the DAY!
Happy Birthday
October 24, 2014
4PM – 12AM
XIKAR Accessory Showcase
Cigar Hustler
Deltona, FL
October 24, 2014
6:00pm-10:00pm
LFD Signature Event
Cigar Hustler
829 Deltona Blvd
Deltona, FL 32725
386-574-3556
October 25, 2014
12pm-4pm
Rocky Patel Cigars Event
Puros Fine Cigars & Wine Co.
10792 SW 24th St.
Miami, FL 33165
(305) 222-2217
October 25, 2014
12:00pm-5:00pm
Multi-Vendor Event
Tampa Humidor
1418 E Bush Blvd
Tampa, FL 33612
813-990-8535
October 25, 2014
12PM – 5PM
Tampa Cigar Bash hosted by Tampa Humidor
Pepin Distributing Company
Tampa, FL
November 1 , 2014
6:00 PM to 11:00 PM
Kings Cigars Event
South Miami Cigars Lounge
5910 S. Dixie Hwy
S. Miami, FL 33143
305-663-1818
SO COME ON DOWN & TASTE THE ROYALTY!!
FREE GIVEAWAYS & LOTS OF FUN!
SO COME ON DOWN & TASTE THE ROYALTY!!
FREE GIVEAWAYS & LOTS OF FUN!
BUY ANY 3 KINGS & GET A FREE CIGAR.
November 1, 2014
7-10pm
Drew Estate Cigar Dinner with Marvin Samel at Neptune
Neptune Cigars SuperStore
2325 S Federal Hwy
Fort Lauderdale FL 33316
In celebration of Fort Lauderdale's key event of the year, the Boat Show, Neptune
has teamed up with Drew Estate to host a dinner for Cigar Lovers. This is a unique
event in South Florida.
The Dinner: Guests will enjoy a formal, 4-course seated dinner with each course
paired with a cigar and wine or spirit. Caterers Thierry's Catering are the
exclusive caterers for The New World Center/New World Symphony in Miami Beach and
have been offering their excellent cuisine and event design since 1989. Along with
Thierry's, Neptune has created a delightful menu that will tantalize your palate
with our pairing of cigar and wine or spirit for each course. An open bar with
cocktails, beer and wine will be included.
The Cigars: Each guest will receive 4 cigars from Drew Estate during the dinner,
valued at $75. Two of the 4 cigars are unreleased, exclusive cigars that are only
available at Drew Estate's special events.
The Hosts: Drew Estate's co-founder, Marvin Samel, and DE's master blender Willy
Herrera will host the dinner, offering some of their stories and anecdotes from
their experience in the cigar industry. Drew Estate makes some of the hottest brands
in the market today, including Liga Privada, Herrera Esteli, Nica Rustica, Kentucky
Fire Cured, etc.
Live Music, Specials, Raffles and more….
November 13, 2014
5pm-9pm CDT
Meet Rocky
Rocky Patel Cigar Events
PCB Cigars
17329 Panama City Beach Pkwy
Panama City Beach, FL
November 13, 2014
4PM – 8PM
XIKAR Accessory Showcase
PCB Cigars
Panama City, FL
November 15, 2014
2:00pm-6:00pm
LFD Signature Event
Smoke Inn
1030 Gateway Blvd
Boynton Beach, FL 33426
561-721-2383
November 15, 2014
12PM – 6PM
XIKAR Accessory Showcase
Smoke This
Sabor Havana
Miami, FL
November 19, 2014
at 7:00pm – 9:30pm
Nat Sherman Event
BURN by Rocky Patel
9110 Strada Pl,
Naples, Florida 34108
Come enjoy Nat Sherman cigars, hand passed appetizers, and a complimentary tasting of CuttySark.
November 19th, 2014
4PM – 8PM
XIKAR Accessory Showcase with Arturo Fuente and JC Newman Cigars
Tampa Sweethearts
Ybor City, FL
November 21, 2014
4PM – 9PM
XIKAR Accessory Showcase with Oliva Cigars
The World Famous Cigar Bar
Ft. Meyers, FL
November 23, 2014
12PM – 5PM
XIKAR Accessory Showcase
Tampa Sweethearts
Ybor City, FL
December 4, 2014
4PM – 9PM
XIKAR Accessory Showcase with My Father Cigars
Island Girl Cigar Bar
Jacksonville, FL